HIV Summer School 2018
30 August – 3 September 2018
Montpellier, France
This 5-day residential course is designed for clinicians experienced in HIV management who want an update on the current issues in all aspects of HIV Medicine and will be delivered by an experienced faculty. The course will consist of updates on the recent advances in current issues in HIV diagnosis, management and prevention together with core knowledge of medical statistics and clinical research methodology.
In addition to the core course, participants will have the opportunity to choose between two parallel modules. Module A will concentrate on research aspects in HIV medicine and Module B on the clinical aspects of HIV co-infections, opportunistic infections and co-morbidities.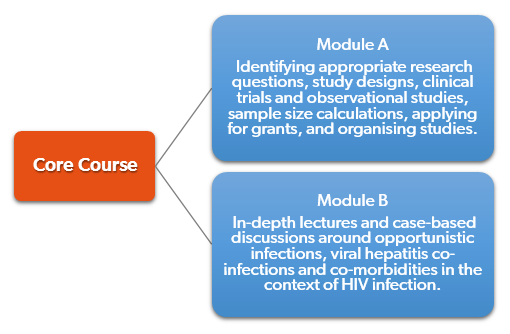 Participants in module A will learn about aspects of research including identifying appropriate research questions, study designs, clinical trials and observational studies, sample size calculations, applying for grants and organising studies. Participants will undertake group work to identify and set-up a study.
Participants in module B will have in-depth lectures and case-based discussions around opportunistic infections, viral hepatitis co-infections and co-morbidities in the context of HIV infection.
The format of the course will be the "Core" elements in the morning with "Modular" elements in the afternoon. The core elements will consist of plenaries (including core topics in statistics and clinical research) with the modular course split between workshops, parallel plenaries and case-based workshops.
A maximum of 70 participants can be enrolled. Interested participants must be physicians or clinical scientists working in infectious diseases and/or HIV.
Applicants are selected on their CV and involvement in the HIV field. A moderate fee of 200 euros covers registration and accommodation (due after confirmation). A limited number of scholarships is available to applicants from low-income countries.
The EACS HIV Summer School 2018 will run from August 30 to September 3, 2018 in Montpellier, France.
The applications to the EACS HIV Summer School 2018 are open until April 1, 2018.
For more information, please follow the link http://www.eacsociety.org/education/hiv-summer-school/hiv-summer-school.html or contact the EACS Secretariat at info@eacsociety.org.
Programme:
Eligibility Criteria: