Igor Kilchevsky is an iconic figure in the PLWH community. His biography is a living illustration of HIV history and establishment of the civil society in Moldova. He went from being an activist who created a small non-governmental organization to being the leader of the national network of PLWH.
Ten years ago he stood at the origins of East Europe and Central Asia Union of PLWH (ECUO) – regional organization, that, years later, uses its collective weight to influence governments' decisions and position of international organizations.
Read this interview with Igor Kilchevsky to learn what molded his personality and what inspires this outstanding person.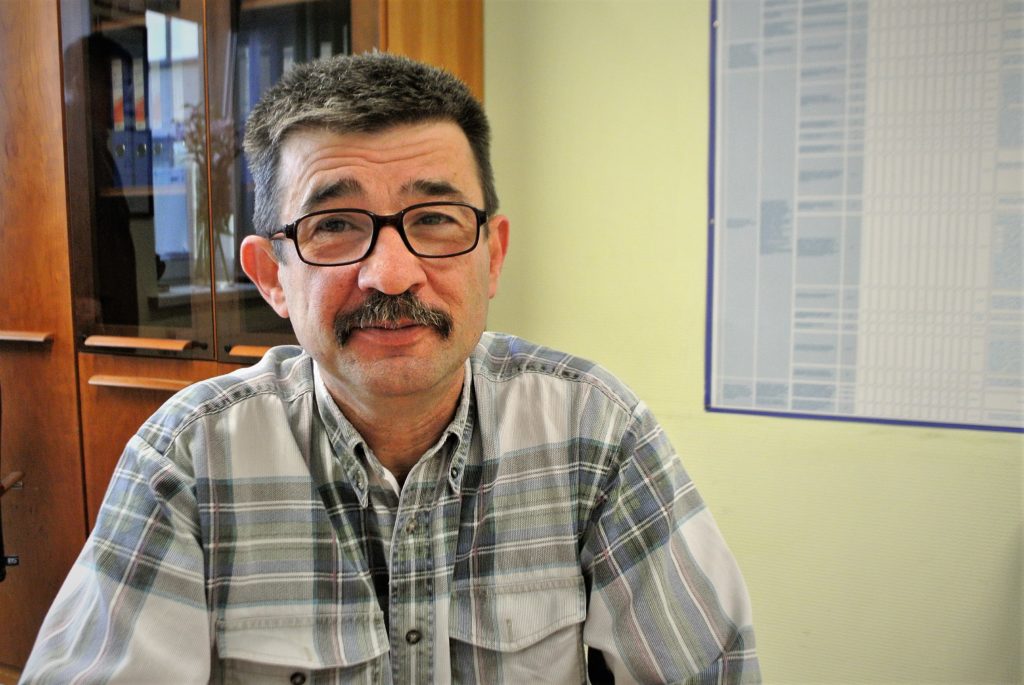 A matter of life and death
I hold off the doctor's appointment to confirm my HIV status as long as I could. It was the end of 1995, and it felt like the end of my life. My HIV status turned out to be positive, and this news literally knocked me off my feet: the next six months I spent lying on my back – I decided I was dying. It was like in children's adventure books, when an old Indian man felt weak, went off to the woods, sat by the tree and died peacefully.
And my doctor made it even worse with his "encouraging" prognosis that I had only a year. Back then people knew nothing about HIV – both doctors and society. I was the 56th person in Moldova with confirmed HIV-positive status. Besides, 42 of them were foreigners who had been rapidly deported from the country.
I began frequently attending AIDS Center, and in just a year I was delegated by UNAIDS to the international HIV conference in Warsaw, where I met people who received therapy even at the time.
I was very inspired. I met people from Ukraine, the Baltic States and Belarus. Back then in Ukraine monotherapy was applied, but in a strange way: they invited people to AIDS centers, gave them, let's say, one medication for three months, and just let them go. At that time we learned – both doctors and us.
When I came back to Chisinau from Poland, instead of going to the AIDS Center, I started attending infectious diseases hospital where a specialized department had been created. At first it was just one room split in half by a glass wall. One half was equipped with a bed, a bathtub and a toilet. While the other half was for students who were occasionally brought there. Those students wore gauze masks and were horrified to have any contact with the HIV patients. Later the cubicle was staffed with two more beds, and men and women were kept together. Those who checked in at that AIDS department usually were critically ill, and rarely made it back home. I am one of the only people who were lucky to survive.
The formal activism era
In 2002 we began writing. UNAIDS engaged us in writing the project for The Global Fund. This was preceded by our hard work, as we met with HIV-positive people, talked about activism, tried to create an organization. Our enthusiasm was what kept this all going. Our first meetings took place in parks and weren't smooth sailing – every now and then we were arrested "just in case". Though later, when they detained us in park, the officers were asked on the radio if Kilchevsky was there. And if they said yes, they had to release us, because we had been detained too often.
To avoid further conflicts with the police, we turned to the Salvation Army. It allocated to us small rooms for our meetings on Fridays and Saturdays. We didn't have to invite anyone – people just came to us. It was a naturally created support group that was based on mutual trust and desire to meet. We exchanged addresses and phone numbers hoping that people would call us if they felt worse. At that point in time, there was no such thing as therapy groups to support each other. We went to hospital to treat complications from co-existing diseases that occurred once in a while. Mainly these were some serious types of cold and pneumonia, because the immune system was weakened. Back then, when people [with HIV] died, nobody even wanted to touch their coffins because of the ignorant fear to get HIV. And the relatives were very grateful to us for coming to our friends' funerals and carrying their coffins. The funerals were small; they were painful to watch. But those who survived that time still have warm memories of the community, and our friendship isn't gone. That's what was really good, and it's something we don't see now, because the big money came, and it has had poor influence on the public sector.
Living with faith
We wrote our first project with a simple pen, as we had neither typewriter nor computer. We created an organization and argued about our vision of its work and its title. Someone even suggested calling it "Memento mori" – "remember that you have to die". Because deep down it's a life-affirming expression. One should enjoy every moment in life. Death is usually sudden. We wanted a big title, but didn't want to mention death, because we were afraid it would frighten the society away. In discussion, we all chose the word "Credinta", which means "faith" in Moldavian.
Essentially, I think that our perception depends on our mental attitude, the way we interact with the world. If we believe that everything is going to be OK, even the dullest day will brighten, and people around will become nice. And when you smile to people, they smile in return. So it's faith – the belief that everything in life can be fixed.
When we wrote our first project, it was axed. We were told, "You are junkies, you'll screw it up in no time". We asked two thousand dollars or so to cover rent and a computer. But in 2002 we did manage to get financing from the George Soros Foundation. We rented a small office with a table, many chairs and a computer. It was a miracle, we could get information from the outer world, from the internet. Even at the time there already was a Kolya Nedzelsky's group in Moscow. His guys supported and consulted us, and we started evolving. We began writing a project for the Global Fund, but all the grants were aimed at education, some get-togethers, teambuilding, and no one financed treatment. Healthcare was believed to be countries' internal problem. We entered into negotiations with Moldova's Ministry of Public Health for state purchases of some HIV medications, and in 2003 we got the therapy we had fought for so long. It was a miracle! People received treatment, and even those with very weak immune system didn't die. Gradually their immune system normalized; they revived, stopped being washy, found jobs, and became useful members of society. That's how HIV diagnosis stopped being a death sentence!
Then came the years of the Global Fund's expansion, with new grants being announced each year. The money came to Moldova, and the treatment coverage increased. At first it was good, doctors gained experience. But, unfortunately, it must be said that even after 15 years of ARV therapy practice there aren't enough trained professionals in this field in Moldova. And there are no specialized research centers.
Now we have enough medicines and tests. But we didn't liquidate stigma. There's still negative perception of HIV-positive people in the society, and it is based on stereotypes and speculation.
The problem is that, along with poor living standards, the health culture is also not very high. People don't undergo any tests because they falsely assume that HIV is only the problem of drug addicts, MSM, and sex workers. But around 50% of new cases of HIV infection in Moldova are people at late morbidity stages of AIDS. Doctors immediately prescribe them treatment, try to help them, but it's not always successful.
So therapy and testing are available, but the society doesn't want to undergo tests and learn about its status. And if it's negative, to avoid risk behavior, considering that the major HIV transmission route in Moldova, 90% of new cases, is sexual intercourse.
Epidemiology shows that before clinical symptoms occur, the virus is transmitted from one HIV-positive person to ten, fifteen or even twenty people. After all, we live in the era of integration: borders disappear, people travel a lot, and, at the same time, the epidemics are more likely to spread too. So they can only be confronted if the humanity is consolidated.
Collective weight in action
The idea of the ECUO was born long before it was created. In 2001 I met Volodya Zhovtyak. We attended various meetings, and spoke to HIV community leaders from different countries, including post-Soviet states. That's how our informal union emerged. The story behind HIV communities in every country was different, so were the problems of HIV-infected people. At first we shared the information chaotically, but finally decided to create some sort of a union for optimization of communication. We met many times, starting, I guess, from 2005. Vladimir invited us to the All-Ukrainian Network's conferences, where we could see the development of this most powerful HIV organization in the post-Soviet states, and what positive results it had achieved. We learned from them and tried to take the beaten trail. As a result, in 2007 we organized the East Europe and Central Asia Union of People Living with HIV.
First of all, we support each other, because advocacy aimed at the whole region is more efficient than actions on the local level. Many articles and letters, sent to us from strong foreign communities, have very positive effect. We collect information on the changes in legislation in different countries, we analyze the dynamics of accessibility of HIV diagnostics and treatment. The Union's collective weigh dramatically influences national applications for ARV therapy purchases. We insist that cost-effectiveness shouldn't be the major thing; it's important to take into account the treatment's quality and the presence of side effects. We draw attention to special aspects in treatment of children, teenagers and the elderly. Thank God nowadays ARV therapy lets HIV-positive people live long and live to a great age.
In September, during the Union's working meeting in Warsaw, we met 70-year-olds who have been living with AIDS for more than 30 years. And I must say they're buoyant, optimistic and have a desire to live. They say they're ready to serve the society.
Challenges of the new era
The governments of our region should have long ago considered education and healthcare financing not as expenses but as investments. It's vital that the patients have the best medications and don't stop treatment. Since a person who receives ARV therapy and who has low viral load can't transmit the virus, even if he/she has risk behavior.
Credible studies have found that there's no risk of transmission in discordant couples if an HIV-infected partner receives ARV therapy.
But compliance to treatment is possible only when ARV therapy doesn't have strong side effects. Unfortunately, in our region young women give up treatment because of the lipoatrophy, and this situation has no happy endings. Lipoatrophy usually presents with slimming of legs, developing a hump in the upper back, deformation and fat loss in the face – a person becomes very unattractive. If this condition develops, no young woman wants to take ARV therapy. They stop taking medicines and die. It's a catastrophe. But good news is that there are medications that don't have such side effects. Of course, they should be used and the governments should purchase them. And we should fight along with the governments and international organizations to reduce the price of these medications, so that state budgets wouldn't spend so much on them. This is our current goal, as we work with the Medicines Patent Pool. Such efficiency of the advocacy is achieved thanks to our Union. But it would be impossible in one separate country, especially in the transition period, when government funding is the main financial source of the HIV/AIDS programs. Besides, every country of the region also has to finance treatment of such complicated diseases as diabetes, hemophilia, cancer etc. We see that these illnesses have insufficient funding too. With this in mind, it's unreasonable to ask for more money due to the Global Fund leaving. In this situation it's difficult, but still possible to communicate with governments using the Union's authority.
Now it's extremely important to increase the quality of treatment, or we will never reach our goals. The Union has many tasks for years ahead. We understand that HIV epidemic won't be stopped by 2020, but the Union will keep working – maybe, even when we're gone, but it doesn't really matter. Most importantly, we have created an effective structure, capable of coordinating actions of HIV communities in East Europe and Central Asia, and changing the situation for the better.
It's good to know that the Union has such countries as Poland that achieves good results in resisting the epidemic. Its best practices are worth applying in other states. It inspires and motivates us. Our and our children's lives are on the line, so we won't stop, we have something to fight for.