The European AIDS Treatment Group is holding its general assembly in Sofia, Bulgaria this weekend of 23-25 September 2016. More than 70 people gathered in the posh but comfortable Sofia Hotel Balkan to discuss the successes and achievements, and also the failures, of the organisation in 2015, and the plans and challenges for 2017 and beyond.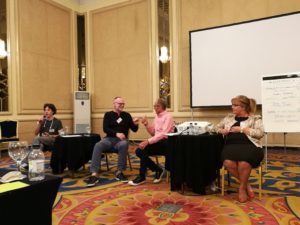 Jens Willemsborg (Denmark) has been elected for Internal Auditor, while Bogdan Hadarag (Romania) and Paul Clift (UK) are the new Ombudspersons.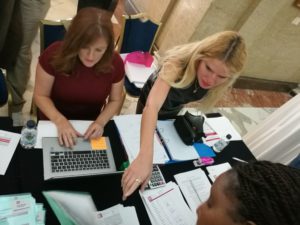 Marie McLeod (Financial Manager) and Nadiia Gaidak (Events Coordinator) were taking care of registration, membership fees and other tasks.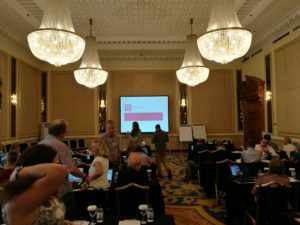 The meeting room was opulent.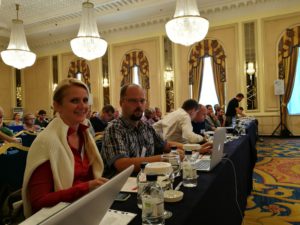 BoD members Sanja Belak and Tomislav Vurusic were getting ready for the GA.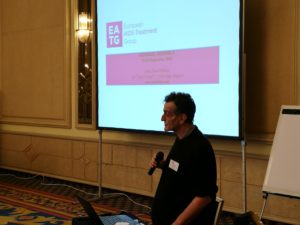 Luis Mendao, previous chair of the EATG delivered the BoD report on the work and achievements in 2015.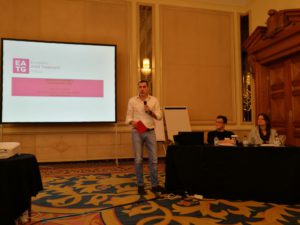 Nikos Dedes spoke about progress in 2015 and plans for the next period.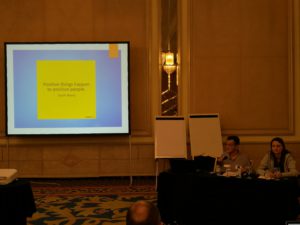 Excellent reports were delivered by community members about the HIV and HCV situation in Bulgaria.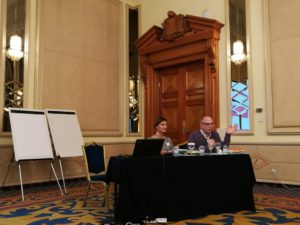 The GA was chaired by EATG veterans Raminta Stuykite and Matthias Wienold.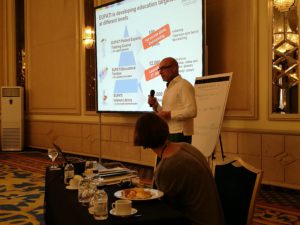 David Haerry delivered a detailed report on EUPATI and also on the internal structures of and patient involvement in the European Medicines Agency.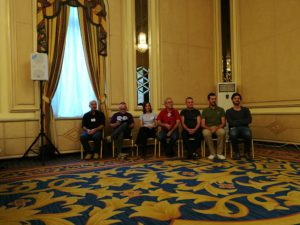 All working group chairs and officers delivered short reports on the various projects and portfolios pursued by the EATG. Giulio Maria Corbelli explained where ECAB stands currently, and outlines plans. Gus Cairns pointed out that the Prevention Portfolio is not only growing but also achieving great impact. Policy Officer Ann Isabelle von Lingen went into some detail about OptTEST and the Civil Society Forum. Bryan Teixeira, chair of the Policy Working Group highlighted the importance of following the strategic plan of the EATG when policy objectives are set and pursued. Damian Kelly is the chair of the Training and Capacity Building Working Group, which is engaged in many different projects at the same time, and has demonstrated the most tremendous growth in the recent years. Giorgio Barbareschi is the Scientific Officer of the EATG, and he highlighted why it is important that members and the organisation remain active in science consistently. Kristjan Jachnowitsch as the Training Coordinator described the importance of the various training projects, including the Ageing with HIV project and conference coming up.
The first day's agenda included reports from the Board of Directors, the Internal Auditors, the Ombudspersons, and the Financial Manager and the Treasurer. After extensive discussion of the results and accounts, the Board of Directors was exonerated, and the financial report and budget for 2016 were approved. Previous financial reports of the EATG are available here.
The agenda of the second day included thorough reports and discussions about the various projects that the EATG has been running. A more detailed introduction to the projects follows on Sunday, so that members can also decide which one they want to be involved in more.
The newly elected Board of Directors consists of
Jackie Morton (UK), Chair of the BoD
Sanja Belak (Croatia), Secretary of the BoD
Brian West (Scotland), Treasurer
Luis Mendao (Portugal), Director
Nikos Dedes (Greece), Director