UNAIDS is championing the inaugural #WhatWomenWant Day on 6 April. Led by the Athena Network, the day sees the launch of the report #WhatWomenWant: a transformative framework for women, girls and gender equality in the context of HIV and sexual and reproductive health and rights.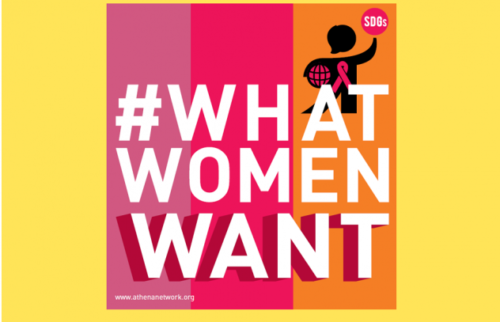 The report is based on six months of consultations with adolescent girls and young women around the world. It calls for sustained investment in women-led partnerships and civil society in order to advance gender equality and meet the ambitious targets set in the Sustainable Development Goals.
#WhatWomenWant is an online campaign that uses social media to amplify the voices of young women, allowing them to share expertise and life experiences, explore solutions and build strengthened networks across gender-related issues, sectors and movements.
To get engaged, follow @NetworkAthena and use the hashtag #WhatWomenWant.
UNAIDS has supported this effort and continues to work with a broad range of partners, including governments, civil society, the United States President's Emergency Plan for AIDS Relief and the Global Fund to Fight AIDS, Tuberculosis and Malaria, to ensure that women and girls everywhere are empowered and enabled to protect themselves against HIV and that all women and girls living with HIV have immediate access to treatment.
QUOTES
"UNAIDS WELCOMES THIS CREATIVE AND PARTICIPATORY PLATFORM, LED BY THE ATHENA NETWORK, EMPOWERING ADOLESCENT GIRLS AND YOUNG WOMEN AND AMPLIFYING THEIR MESSAGE. LET'S BUILD ON THE KNOWLEDGE AND SOLUTIONS OF ADOLESCENT GIRLS AND YOUNG WOMEN AND MAKE SEXUAL AND REPRODUCTIVE HEALTH, INCLUDING HIV PREVENTION AND TREATMENT SERVICES, WORK FOR THEM AND WITH THEM."
"POLICY-MAKERS HAVE ALWAYS BEEN ABLE TO KNOW WHAT WOMEN NEED, BUT NOW IT IS TIME FOR US TO SPEAK OUT OPENLY ABOUT WHAT WOMEN WANT."
"ADOLESCENT GIRLS AND YOUNG WOMEN NEED TO HAVE THE INFORMATION, SAFETY, FREEDOM, EDUCATION, RIGHTS AND AUTONOMY TO MAKE HEALTHY AND INFORMED DECISIONS ABOUT THEIR HEALTH AND THE TRAJECTORY OF THEIR LIVES."