From the first days of annexation of Crimea and launch of the military operation in the east of Ukraine, Alliance for Public Health (hereinafter – Alliance) defined that one of its priorities was support of HIV, tuberculosis, viral hepatitis prevention and treatment programs, as well as support of the patients of opioid substitution therapy (OST). The goals of Alliance are of pure humanitarian nature – despite any political factors, to provide maximum support to those who have already been receiving treatment or prevention services, if possible to ensure uninterrupted delivery of such services, and to support those clients who are in need of assistance. The situation with ensuring provision of comprehensive HIV, tuberculosis and hepatitis treatment and prevention services in the east of Ukraine (in the areas of military conflict) in 2016 has somewhat stabilized, but remains tense.
HIV Prevention in Vulnerable Populations
Coverage of populations vulnerable to HIV by prevention projects from 1 January
2016 to 31 December 2016 (preliminary data)*
Oblast
PWID
SW
MSM
Plan 2016
Actual
%
Plan 2016
Actual
%
Plan 2016
Actu al
%
Donetsk oblast
27,891
30,027
108%
1,533
1,851
121%
1,134
1,178
104%
NGCA
 
13,382
 
 
847
 
 
334
 
Luhansk oblast
8,477
9,096
107%
722
826
114%
–
–
–
NGCA
 
6,747
 
 
826
 
 
 
 
TOTAL*
36,368
39,009
107%
2,255
2,677
119%
1,134
1,178
104%
NGCA*
 
20,085
 
 
1,673
 
 
334
* The total figures demonstrate the number of persons (not visits), who receive prevention services in different organizations/regions
Alliance continues to support HIV/STI prevention projects implemented in most vulnerable populations by 11 local partner NGOs. Activities are carried out in 18 populated areas of Donetsk and Luhansk oblasts temporarily not controlled by the Ukrainian government: Alchevsk, Antratsyt, Brianka, Horlivka, Debaltsevo, Donetsk, Yenakiieve, Zuievka, KarloMarksovo, Kirovske, Krasnodon, Krasnyi Luch, Luhansk, Makiivka, Perevalsk, Stakhanov, Teplohirsk, Khartsyzsk. In the government-controlled areas prevention activities are implemented in 32 towns and villages: Avdiivka, Andriivka, Artemivsk, Bilbasivka, Borovske, Voronove, Dzerzhynsk, Dymytrov, Dobropillia, Drobyshevo, Druzhkivka, Kirovsk, Kostiantynivka, Kramatorsk, Krasnohorka, Krasnoarmiisk, Chervonyi Lyman, Kreminna, Lysychansk, Mariupol, Myrne, Mykolaivka, Novoaidar, Rodynske, Rubizhne, Svatovo, Severodonetsk, Selidovo, Sloviansk, Staryi Karavan, Cherkaske, and Yampil. Within the above-mentioned projects implemented in the areas temporarily not controlled by Ukraine, about 20,000 clients from among populations most vulnerable to HIV receive the minimum package of HIV/STI prevention services.
Besides, in 2016 seven organizations started implementing the project "Sub-granting based on the terms of reference for non-governmental organizations of Donetsk and Luhansk oblasts to implement an enhanced package of minimum services for project clients located in the military conflict areas in the east of Ukraine". Project activities are aimed at expanding the standard package of minimum services by offering counseling of psychologists and first aid for PWID, SW and MSM in the military conflict areas; distribution of medicines and health goods, food and hygiene packages.
In total, the following services were provided:
4,129 counseling sessions with psychologists;

1,132 counseling sessions of healthcare workers, including provision of medicines;
2,419 food and hygiene packages.
To improve the quality of prevention services and increase the coverage of clients in military conflict area in Luhansk oblast, Alliance provided mobile clinic to NGO "Obriy" (Severodonetsk).
HIV and STI testing
Prevention projects offer rapid testing for HIV and other sexually transmitted diseases. According to the preliminary data for the period from 1 January to 31 December 2016, rapid testing for HIV was delivered as follows:
Donetsk oblast: 27,725 members of key populations were tested with 385 (1.4%) positive results;
Luhansk oblast: 8,136 tested, with 97 (1.2%) positive results.
Early TB detection in vulnerable populations
Nine NGOs in Donetsk oblast and three in Luhansk oblast are working with the component of early TB detection in vulnerable populations. Based on the preliminary data for the period from 1 January to 31 December 2016:
17,278 clients in Donetsk oblast were screened for TB using survey questionnaires:

2,058 positive results obtained, o 1,133 (55%) clients sought TB diagnostics services in healthcare facilities,  o 40 of them were diagnosed with TB.

5,957 clients in Luhansk oblast were screened for TB using survey questionnaires:

923 positive results obtained;  o 902 (97,7%) clients sought TB diagnostics services in healthcare facilities, o 5 of them were diagnosed with TB.

38 patients with confirmed tuberculosis diagnoses started treatment (85%).
Support of patients with multidrug-resistant tuberculosis (MDR-TB)
In 2016, medical and social support services were provided to patients with MDR-TB only on government-controlled areas. Nurses of the Ukrainian Red Cross Society – Alliance subrecipient – visited patients on a daily basis, delivering to them tuberculosis drugs and twice a month – food packages. In Luhansk oblast, services were provided to 63 patients with MDR-TB, in Donetsk oblast – to 237 patients. Data about the patients are entered into the national register.
Procurement and supply of drugs and healthcare goods
Supply of drugs and prevention materials to NGCA remains a permanent challenge for Alliance. On the one hand, if timely supplies are not ensured, effective response to HIV and TB epidemics in the region is not possible, and on the other – the schemes of delivery to those regions constantly changes and becomes more complicated. That is why key factors are now regular monitoring of the situation and readiness to quickly coordinate the delivery of consignments.
Coordinated efforts of Alliance and its partners allowed making another delivery of TB drugs and prevention materials on 27 December 2016. The consignment arrived to Donetsk in a convoy of five vehicles. The delivery contained 34,440 packs of drugs for the treatment of MDR-TB. It is expected that they will ensure treatment of 500 patients in the temporarily occupied territories of Donetsk oblast.
Unfortunately, long-term negotiations with de facto "authorities" of the occupied areas of Donetsk oblast still have not let to the establishment of cooperation in TB treatment. We hope to come to a mutual understanding in this question and renew the deliveries to this region in 2017. Besides, the convoy was able to deliver over 6.5 million pieces of prevention materials (syringes, condoms, diagnostic tests, etc.) to Donetsk. These materials will ensure stable operation of four partner organizations of Alliance located in NGCA in Donetsk oblast and two – in Luhansk oblast. For the purposes of prevention programs, 20,362 rapid tests for HIV, hepatitis and sexually transmitted infections, 1,240,000 condoms and lubricants, and 5,300,240 sterile syringes and wipes were delivered.
Another consignment of TB drugs is prepared to be delivered in April-May 2017. Options are considered to renew the deliveries of reagents for TB diagnostics (GeneXpert and Bactec equipment).
We would like to express our gratitude to the nongovernmental organizations, which ensured acceptance of the humanitarian consignment to ensure uninterrupted operation of the projects: Amicus Charitable Foundation, Life Line Charitable Foundation and to the Luhansk team of the All-Ukrainian Public Health Association.
Opioid Substitution Therapy (OST)
Back in 2015, OST delivery was suspended at most sites of the non-government controlled areas (NGCA) of Donetsk and Luhansk oblasts. In fact, in the territory under control of the "DPR" authorities only one OST site in Donetsk continued its operation, which also stopped providing the therapy on 23 June 2016, when the last 23 HIV-positive patients received their minimum dose of methadone (5 mg). Since the beginning of the armed conflict, almost 900 patients from NGCA of Donetsk and Luhansk oblasts were deprived of their OST treatment, mostly due to the depletion of the necessary drugs. Due to security and regulatory restrictions, implemented by the Government of Ukraine in the military conflict areas, the delivery of narcotic drugs for the OST therapy to NGCA was stopped back in the second half of 2014. Some patients were able to regain access to OST on government-controlled areas.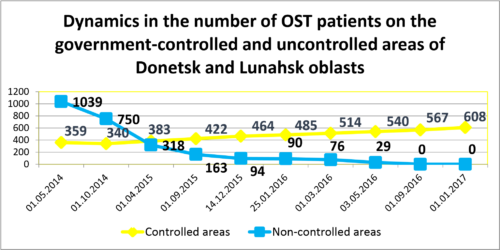 Since May 2014, Alliance had been implementing a project to support OST patients from the annexed Crimea and from the military conflict areas of Donetsk and Luhansk oblasts, which was funded by different donors – International Renaissance Foundation, Elton John AIDS Foundation, Pompidou Group of the Council of Europe, the Global Fund to Fight AIDS, Tuberculosis and Malaria. The project allowed more than 390 OST patients from the Crimea and from the military conflict areas not only to relocate to safe regions of Ukraine, but to continue the life-saving treatment and start over again at the new place. Based on the survey results, 95% of the clients after the completion of the project were planning to stay in their new places of residence and receive OST services on the general terms. From the very beginning, the project was aimed not only at supporting patients in the first months of relocation, but also to contribute to their integration into local communities in every possible way. As a result, 99% of project clients were officially registered as "internally displaced people" and received government support, 19% received disability benefits, 5% – allowances for children. As of the date of project completion, 41% of patients had permanent or temporary jobs, which allowed them to pay for their own accommodation after the end of the project.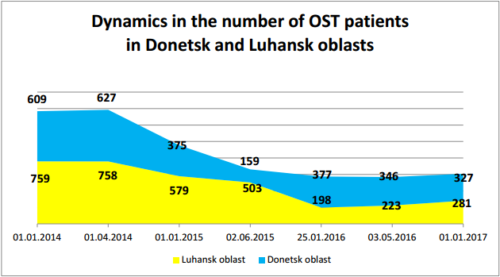 As of the beginning of 2017, there were 7 OST sites operating in Ukrainian governmentcontrolled areas of Donetsk and Luhansk oblasts – 4 in Donetsk oblast (Mariupol, Sloviansk, Kramatorsk, Pokrovsk), and 3 in Luhansk oblast (Lysychansk, Severodonetsk, Rubizhne). In 2016, Alliance paid a great deal of attention to providing technical support to renovate and equip OST sites functioning on the Ukrainian government-controlled areas. Premises of the OST sites were renovated, with new furniture and equipment purchased, which allowed improving the conditions of service delivery and significantly increasing the additional uptake of OST patients.
In particular, Alliance support allowed opening a site in Rubizhne, which currently provides OST to 71 clients. At present time, most sites located in these areas offer handing out OST drugs to patients for self-administration for 7-10 days based on prescriptions or directly from healthcare institutions where such OST sites operate.
Working with the military servicemen in the armed conflict areas
In            2016,   Alliance           expanded        its cooperation with the Ministry of Defense of Ukraine. To prevent the spread of HIV, viral           hepatitis          and      other    socially dangerous diseases, Alliance together with the International HIV/AIDS and TB Institute provided and delivered 132,000 condoms        and    22,200            specialized awareness-raising          materials         for        the military servicemen involved into the armed conflict in Donetsk, Dnipropetrovsk and Luhansk oblasts.  3,000 rapid tests were transferred to Eleos-Ukraine to conduct HIV testing among military servicemen in the Ukrainian governmentcontrolled areas adjacent to the armed conflict zone. Besides, 3,000 tests for
hepatitis B were provided to the Ministry of Defense in the beginning of 2016.
Alliance continues its cooperation with the Central Sanitary and Epidemiological Department of the Ministry of Defense of Ukraine in terms of regular provision of prevention awareness-raising materials and condoms to the military servicemen.
It also works together with civil society organizations and governmental institutions of Donetsk and Luhansk oblasts to organize prevention activities for the military servicemen.  Thus, on the occasion of the World AIDS Day the healthcare facility of the frontline Yasynuvata district for the second time conducted a series of trainings on HIV prevention for Ukrainian military servicemen and officers of governmental institutions located in government-controlled areas with support of Alliance.
Besides, Alliance prepared an information leaflet for military servicemen "Come Back Healthy", containing information on the prevention of HIV and other sexually transmitted infections.
 National HIV/AIDS Hotline: 0-800-500-451
National OST Hotline:  0-800-507-727
Alliance for Public Health
Contact person: Myroslava Andrushchenko  е-mail: andrushchenko@aph.org.ua 
Phone: +38 044 4905485 ext. 229
Source: aph.org.ua