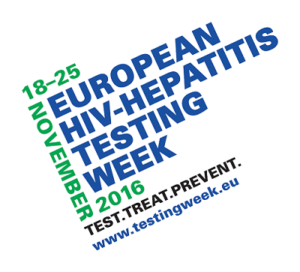 From 18 to 25 November 2016, almost 500 organisations all across Europe are hosting activities to increase awareness of the benefits of HIV and hepatitis testing. These diseases can be asymptomatic for a long time and without getting tested, many people will live with their infection without knowing it. ECDC backs the efforts of European HIV-Hepatitis Testing Week with an updated version of the European Test Finder which now allows locating testing sites for HIV, sexually transmitted infections and viral hepatitis.
"As our surveillance data show, reaching and testing those at risk of infection, whether it's HIV or hepatitis, is still a public health challenge across Europe", highlights ECDC Acting Director Andrea Ammon. "If we want to interrupt the existing transmission chains and avoid further infections, we need to strengthen local prevention and control practices, including a boost of testing services. That's why ECDC welcomes the efforts of European HIV-Hepatitis Testing Week to increase positive dialogue and awareness among those who ought to be tested for HIV and viral hepatitis and those who offer tests across Europe."
Where to test? Find out with the European Test Finder
Viral hepatitis is preventable and curable. While there is currently no cure for HIV, early diagnosis allows access to lifesaving treatment and also reduces the long term cost to the healthcare system. But almost every second person diagnosed with HIV in Europe still presents at a late stage or with indication of advanced infection.
A quick and simple blood test will tell if one is infected or not – knowledge that can help protect own health and that of others.
The European Test Finder makes it a lot easier to locate testing site for HIV, hepatitis or STI in Europe: all that is needed is a post code or city name to find information about the nearest testing site.
To help countries in their efforts to identify HIV infections early, the ECDC HIV testing guidance provides key information on why, where, how and when to test for HIV. It aims to inform existing national HIV testing strategies in Member States to adopt a strategic, evidence-based approach to develop and implement effective HIV testing procedures. Recommendations and key messages of the HIV testing week are in line with the ECDC guidance. ECDC is currently its HIV testing Guidance updating based on new interventions and developments.
Read more:
HIV testing in Europe evidence brief (Monitoring implementation of the Dublin Declaration on partnership to fight HIV/AIDS in Europe and Central Asia – 2014 progress report)
HIV testing: increasing uptake and effectiveness in the European Union (in brief)
Annual Epidemiological Report 2016: HIV/AIDS (reporting on 2014 data)
Annual Epidemiological Report 2016: Hepatitis B (reporting on 2014 data)
Annual Epidemiological Report 2016: Hepatitis C (reporting on 2014 data)